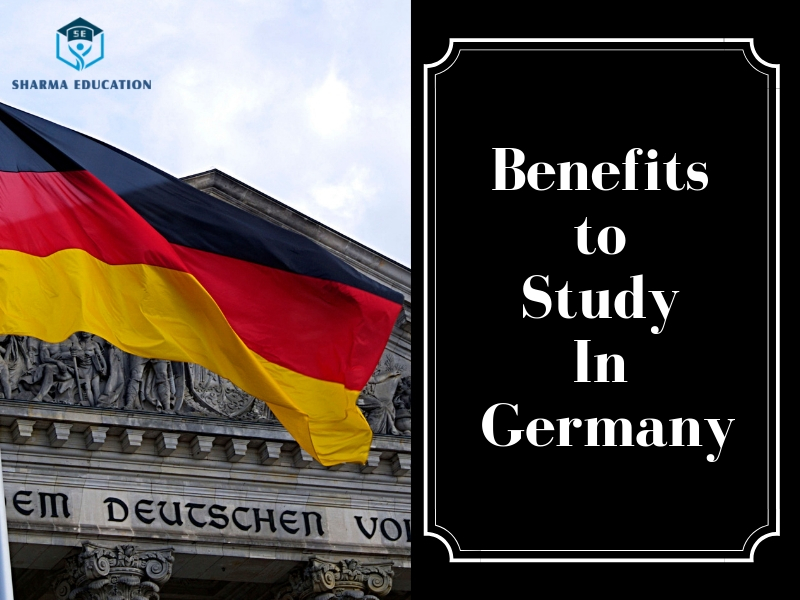 Germany is the fourth-largest economy in the world after the USA, China and Japan and the most preferred destination for students who want to pursue higher education.
Do you want to know why Germany is the most popular destination for Students, Major Highlights :
After the USA and Canada, Students choose Germany as the most preferred destination.
12% of students enrolled in German universities coming from abroad.
Munich and Berlin featured in the top 10 favorite cities in the world of international students.
Now Let's talk about

Top 5 Benefits to Study in Germany

1. World-Class Technical Institutions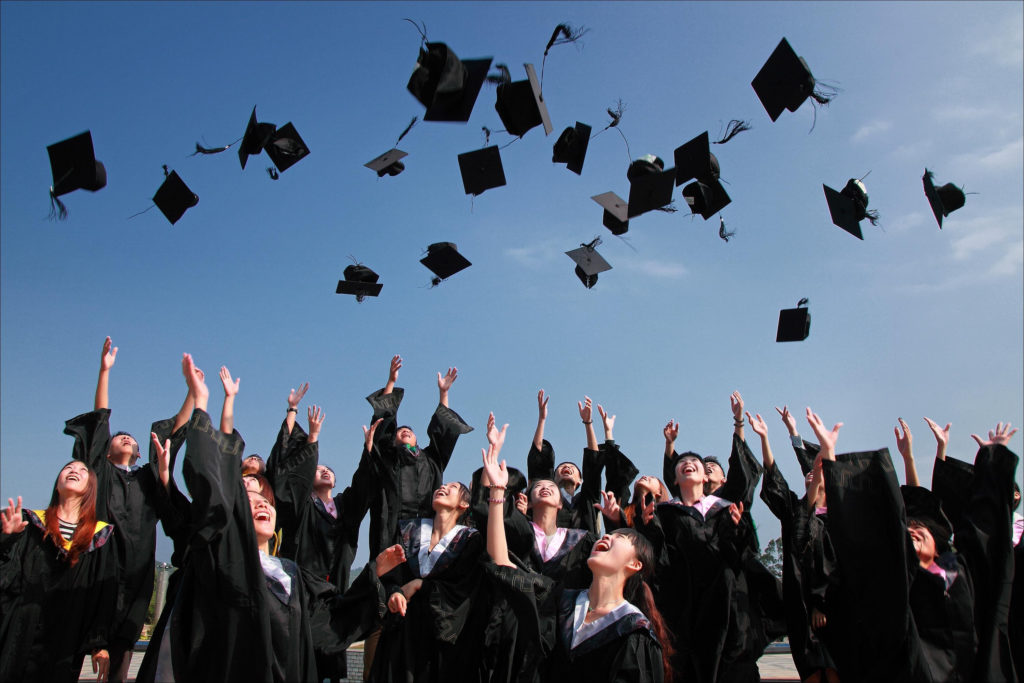 International Students in Germany
Germany has some world-class institutions in the world including some medical institutions and management institutions.

German education systems are divided into three main types of institutions :
1. Universities and Technical Universities
2. University of Applied sciences also called Fachhochschule or Hochschule
3. Colleges of Music, Art, Film, and Theatre

Germany has coined a term Praxis which they use in their entire education system right from their schooling to the universities which means "Practice"

They teach their students to apply everything they learned from theory into practical applications. In Fact, the Fachhochschule or Hochschule are industry and corporate-oriented programs taught in the universities.

2. No Tuition Fees
The government subsidizes higher education in Germany and the public universities have absolutely no Tuition fees to local and international students.

Now let me give you some statistics, there are 400 institutions of higher education in Germany which have about 2.5 million students enrolled at this point in time.

And 95% of these students study at the public universities where there is Zero tuition fee.

Does that mean that we don't have to pay anything to these universities??
No, it does not mean that let me explain your cost structure once you study in Germany -The university will charge you approx about 400 to 500 euros, it depends on university to university but just a ballpark number of 400 to 500 that will charge you per semester which is a period of six months and this covers their administration fee, there could be a contribution charge, it also includes a free travel card that you will get travel on all different modes of transportation within Germany.so that's your primary expense 400 to 500 euros per six months,
Now let's talk

About the Living cost
The average living cost in Germany about 700 euros per month, it's a ballpark number cities like Munich could be a little more expensive and cities like Berlin could be a little cheaper but on an average, if you take a number like 700 euros per months that number could be a good average to work with.

About 50% of this could be towards your rent and perhaps you will take up a shared student accommodation and about 100 or 250 euros could go towards your food and groceries and the balance for all your other living expenses now this still makes the living cost in Germany much cheaper than studying in neighboring France or in the Netherlands.
3. Relatively Lower Blocked Funds
you need to keep a relatively lower amount in your blocked account and let me explain that to you :

When you go to study In Germany, you need to apply for a National Visa, this visa has a number of different requirements and one of the requirements is to place a sum of money in a blocked bank account to show them that you have the capability of financing one-year living expenses, now remember because they don't have a tuition fee, this amount is lower because you only need to show one year of living expenses.
Before we get to the exact amount, you would need to open this blocked account as soon as you get your university acceptance letter and you can also open this account in your home country before you go there.

Now looking at the amount at the rate of euros 720 per month, the amount that you need to place in this blocked account is for the 12 month period so that euro 8640 approximately and works out to about 7 lakh of Indian rupees at the current exchange rate.

Now let me tell you if you wanted to go and study in the USA and Canada, this amount would be much much higher, you would need to show in your account at least 15-20 lakhs if not more, so this is a huge advantage for you when you go to study in Germany especially if fund is a crunch situation, 7 lakh rupees in your blocked account and tuition fees for free.
4. Work Opportunities
Germany offers a substantial number of work opportunities for you if you are proficient in spoken german.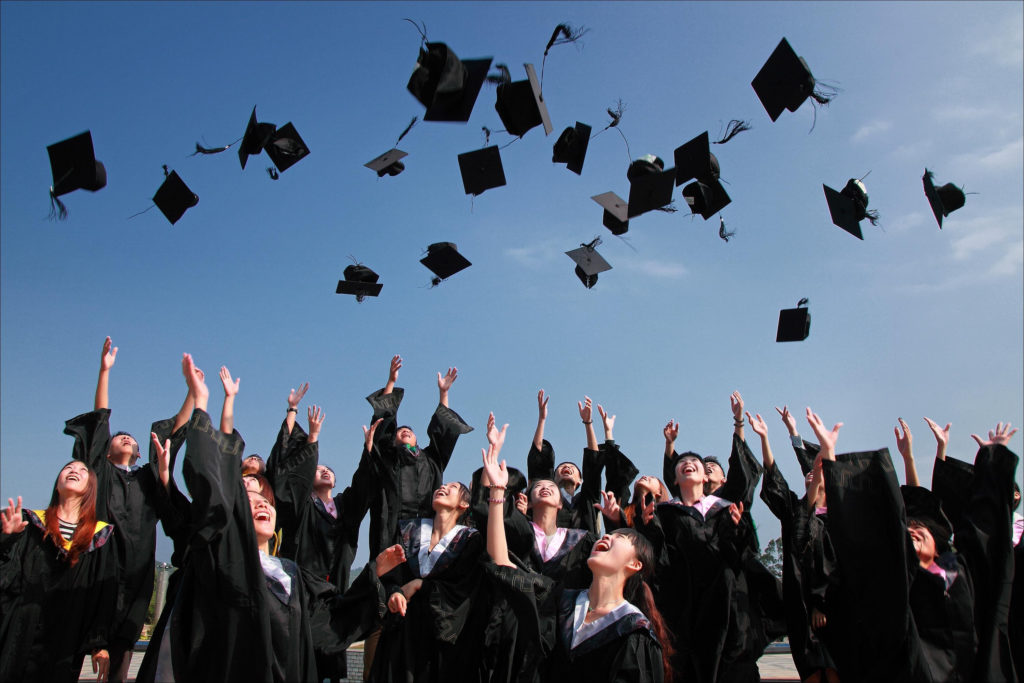 Let's look at the regulations under your student visa, you are allowed to work for 120 full days or 240 half days during the year, when the term is on, you can do 20 hrs a week and during vacations, you are allowed to work full time, you don't need any specific approval for this, you can automatically work 20 hrs a week the moment you have the national visa for a student.

Your student assistantships or research assistantships are over and above all of this and there is no upper time limit for that, however, those require the approvals of the university.

Now let's look at this 20 hrs a week, most students try to work on weekends for 10 hrs a day and cover up to 20 hours over the two weekend days and focus on their academics during the five days of the week.

Let's look at where they tend to work, most students tend to work at stores and restaurants but some of the higher-paying jobs for you as a student and I am talking about part-time jobs here preferably weekend jobs may be as a language tutor or as a call center executive or an office assistant, not office assistants are not weekend jobs but they could be higher paying even babysitting jobs sometimes can be higher paying.

Now you want to combine some of the higher-paying jobs with the weekend jobs and balance out your work curriculum and the weekends and that 20 hours a week.
Let's look at
Remuneration
The minimum wage in Germany is 9 euros an hour but you could get up to 15-18 euros an hour if you work as a field interviewer or perhaps you could get a high number.

Now looking at 20 hrs a week, you could earn up to 800 euros a month and that would sufficiently take care of your living costs of which we said were roughly about 700 euros a month however you must know that if you earn more than 450 euros a month, you need to pay taxes and social security contributions which are minimal as a student however you need to pay them but they help in clocking your years to become a permanent resident.
But focusing right now on work opportunities, the one thing I must tell you is that for all these jobs to happen, you must be proficient in spoken German, but don't worry about it once you enroll in Germany, Let's say you don't know German from before but you still want to enroll in a German university or right ahead and do it usually they are gonna ask for your TOEFL scores because the course itself is in English but once you enroll, you can take up these short term German language courses which are offered at the universities and at the end of about three months, you could be reasonably proficient in spoken German and pick up a few part-time jobs here and there and slowly work towards getting that b1 level of language proficiency that is a bare minimum before you can look for any permanent job.
Now moving away from part-time jobs and looking at the permanent jobs that you are going to be looking at once you complete your degree. Germany, as you know, is the fourth-largest economy in the world after the USA, China, and Japan and it's the largest one within the EU. Jobs are plenty but there are certain sectors that have more jobs and certain others and let me talk about which those sectors are :
Engineering Jobs are available particularly Mechanical engineering, Automobile Engineering, Electrical engineering and even chemical engineering jobs.
Renewable power sectors are very large and especially if you are working on solar power those are the kind of jobs that you could get in large numbers.
Medicine is another area of priority and statistics show that they are about to short by 5000 doctors right now.
Another area where they are growing and looking for people in the IT area so if you are a software professional and
even other STEM-related areas science fields, mathematics fields, etc are areas where you could get jobs readily.
Outside of these science and technology and engineering jobs, jobs like in the education sector and in the training sector are also highly in demand.
Also looking at the large corporations where you could apply the large local corporations in Germany are like Adidas, Allianz, BMW, BOSCH, Deutsche Bank, Hugo Boss, Volkswagen, Siemens and there are many others so those are the jobs you can get with the local corporations.
There is also some of the large multinational companies that have a significant presence in Germany like Amazon, Google, KPMG, Mckinsey so these are the companies that would typically employ in large numbers and you could keep all of this in mind when you are applying, however, German universities have their own career centers and you could go to them and they will extend a lot of help to you in preparing your resume in applying and interviewing with these companies and also helping you choose which company you want to apply.
5. Option to Settle Down
Now typically after you finish your university degree, your student visa will expire almost immediately even if the visa was initially issued for a period longer than the period of your degree, it expires immediately on the expiration of your degree or on completion of your degree.
Now you are eligible to apply for an 18 months work visa post completion of this degree program, now during that 18 months you can continue to work for your 20 hrs part-time jobs and you can make up for that living expense while you are looking for that permanent job, however, you may lose out on some of your student benefits like that subsidized health insurance and the free travel card but you could still earn upwards of 800 to 900 euros because by then you have enough work experience as well if you are doing a master degree, you could have an 18 month or 24-month work experience in Germany, you would be more proficient in language, so you could be at the upper end of the per hour rate when you are doing your part-time jobs and you could be comfortable with your living cause.
But the goal for you is to get that permanent job and as soon as you get that permanent job you are eligible to apply for a part-time German residence permit or an EU blue card.

Now the difference between the two really is as the name suggests the German residence permit is restricted for jobs within Germany and the EU blue card allows you to move around between the countries of EU however it is said that for better long term prospects within Germany, The German residence card is preferred, so weigh the pros and cons of the two before you select once but you could choose either of the two.

The moment you get the permanent job and one caveat is the job that needs to be related to the field in which you did your degree program and needless to say language proficiency at a b1 level is a minimum must before you get the permanent job.

Now two years after you have got that German permit or the EU permit, you could apply for a permanent residence permit, Once again it could be either German or it could be EU depending on what you chose in the first place and also what is very exciting is that if you have been there for eight years as a student as a taxpayer after that you are eligible to apply for a citizenship and Germany gives its own students So if you are a foreigner having studied in a German university you get a lot of preference over any other non-EU resident or citizen, so once you go to study in Germany, Literally the entire job market is open to you if you would know to speak their language.

So these were the top five reasons or benefits of studying in Germany but there are other side benefits as well which I am quickly going to list out for you :

Germany has a large number of programs available to you in the English language
There are various masters and PhD. programs and you will find them all listed on the website – www.daad.de  which are conducted in the English language.
Also, the student community is extremely helpful and you could even get a full scholarship that covers your entire living expenses and also the degree is granted by the German universities are internationally recognized because they are now covered under the Bologna reforms.
They also have topped faculty and great infrastructure.
Living in Germany could be a great experience because Germany is bang in the middle of Europe and you could end up traveling to all these exotic countries on your long weekend and Germany itself is a beautiful country to live in with a diverse population.
Weatherwise it's cold but it's not as cold as Canada.
Overall, Germany is the perfect destination for Indian students to study and settle down.
If you have any other queries about the study in Germany, you can shoot an email to [email protected] or leave a comment below and we are happy to answer them.

Want to read more blog related to study abroad: