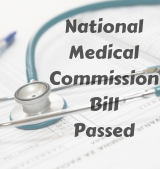 The Union Cabinet on Wednesday approved the National Medical Commission Bill (NMC) which has to replace 63-year old Medical Council of India (MCI) to improve medical education in India.
What is NMC Bill?
It's a national medical commission bill has recently passed by the union cabinet by replacing old Medical council of India (MCI)
The National Medical Commission Bill 2019 proposes to repeal the Indian Medical Council Act, 1956. NMC will replace the Medical Council of India (MCI), which was dissolved in 2010 following corruption charges.
According to Union Minister Prakash Javedker said in cabinet briefing "Currently, we are having NEET and entrance exams for AIIMS etc. Now we will also have an exit exam that will be for everyone for getting a license to practice medicine in the country,"
"At present, different medical colleges have different MBBS exam patterns which means we are never sure of the quality of the medical graduate passing out of MBBS. The NMC proposal is to ensure a uniform national pattern for final year MBBS exam so that all medical graduates who get the licence to practise conform to uniform national standards and quality," a Health Ministry source said.
Salient Features of National Medical Commission Bill (NMC)
The NMC will be the 29-member body which would comprise of 20 members selected through nomination, and nine through the election.
It will have the following boards — Undergraduate Medical Education Board, Postgraduate Medical Education Board, Medical Assessment and Rating Board and Ethics and Medical Registration Board. The UG and PG boards will set standards of medical education, while the Rating Board will facilitate the process of granting permissions to new medical colleges, and rank them.
Greater representation to elected members through State Medical Councils has been provided in the Medical Advisory Council and the Commission.
The strength of Autonomous Boards has been increased from 3 to 5 and it includes 2 part-time members. One of them will be a doctor selected by the Government and the other will be an elected doctor from State Medical Council.
The annual renewal permission for new medical colleges before recognition is being done away with.
NEXT – Common Medical Exam for Medical License and Entry for PG Courses for All Students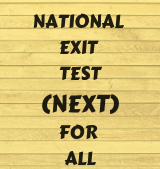 The new Bill will have the provision for making national standards in medical education uniform by proposing that the final year MBBS exam be treated as an entrance test for PG and a screening test for students who graduated in medicine from foreign countries. This exam will be called the National Exit Test (NEXT).
According to Union Minister Prakash Javedker said in Cabinet Briefing "There is a common exam will be conducted in the MBBS final year and that will be known as "National Exit Test (NEXT)." Also in his statement added that there will be no MCI screening test known as "Foreign Medical Graduate Exam (FMGE) held for medical students graduating from foreign nations, Instead of that they have to appear in NEXT.
I firmly agree with the cabinet decision to pass NMC bill which will not only improve the medical education in India, also will get more skilled doctors.
To Implement the National Exit Test (NEXT) for Indian medical graduates and Foreign medical graduates is really a necessary step and it will make the process smooth and transparent.