All India Institute of Medical Sciences (AIIMS) has started registration process for MBBS 2019 exam.AIIMS entrance examination for MBBS course is for taking admission in AIIMS Delhi, Bhopal, Bhubaneswar, Jodhpur, Nagpur, Guntur, Patna, Rishikesh, Raipur.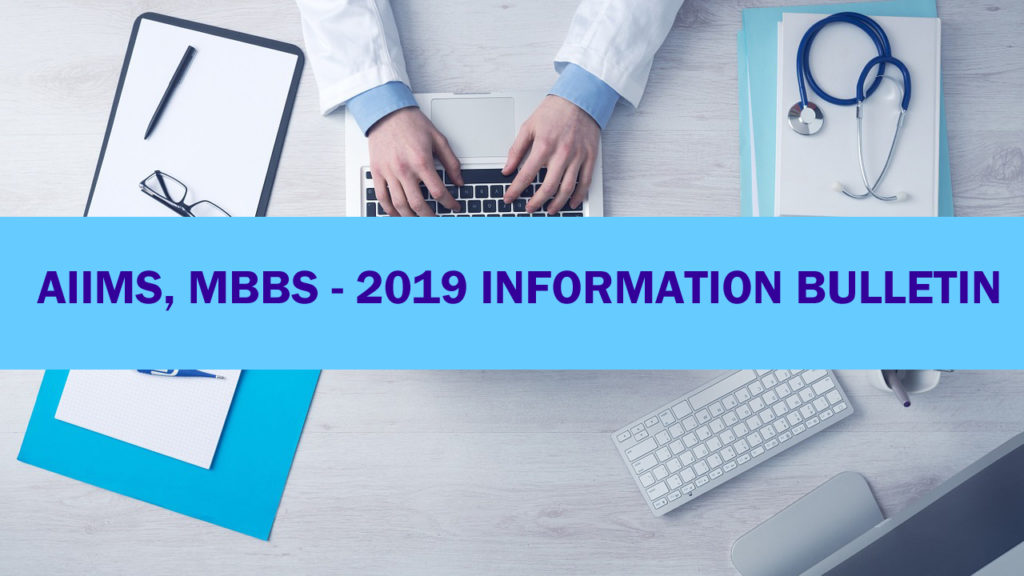 Six new AIIMS Institutes – Six new AIIMS are introduced located in Kalyani, Raebareli, Gorakhpur, Bathinda, Deogarh and Bibinagar, making a total of 15 institutes across India.
Increase in Seat Intake- With the introduction of new AIIMS, the seat intake for the next academic session will also increase. It is expected that more than 1000 seats will be offered by AIIMS in total.
There is small amendment in the registration process, This time, there is two part of registration :
Basic Registration – Start from 30th November to 3rd January 2019
Final Registration Code Generation – Start from 29th January to 17th February 2019
Final Registration process for code generated applicants : February 21 to March 12, 2019
Issuance of admit card – May 15, 2019
Date of Entrance Exam : 25-26 MAY 2019

Eligibility Criteria
Before applying for the entrance exam, aspirants must go through AIIMS MBBS eligibility criteria to check whether they are eligible or not. Check the basic eligibility criteria which must be fulfilled by aspirants are mentioned below.
Academic Qualification: Applicants should have completed higher secondary (12th) from recognized central or state board institutions and their main subjects should be English, Physics, Chemistry, and Biology.
Minimum Marks: For General and OBC applicants must have obtained an aggregate of 60% marks in English, Physics, Chemistry, and Biology.SC and ST candidates must require 50% in total. The OPH candidates must secure at least 45% in Class 12.
Age: Students should have attained or will attain the age of 17 years as on December 31, 2019. Candidates born on or after January 2, 2003, are not eligible to apply.
Exam Pattern
Computer based online Exam
Based on 12th Standard (Syllabus)
200 Objective type questions
Exam Language – English or Hindi (Choose the one you are comfortable with)
Duration of Exam – 3 hours 30 minutes
There should be negative marketing.+1 mark for a correct answer and minus ⅓ mark for a wrong attempt.
There are four session – two on May 25 and two on May 26, 2019
Session timings – Morning session – 09:00 am to 12:30 pm, Evening session – 03:00 pm to 06:30 pm
Question Pattern
Subject
No. of Question
Physics
60
Chemistry
60
Biology
60
General Knowledge
10
Aptitude &
Logical Thinking

10
How to Apply – Step-wise Procedure
Step 1 : Go to AIIMS Official Website https://www.aiimsexams.org/
Step 2 : Click on "Academic Course"
Step 3 : Click on "MBBS Link", there is new page pope, Click on "Proceed"
Step 4 : Now you can see the "Registration Link".
Step 5 : Each candidate have to compete first part "Basic Registration"
Step 6 : If any mistake occurs, candidate can make changes in given time frame

Each candidate should go through First Part "Basic Registration" and then the Second part – Final Registration, there will be a code generate for all the candidates who has done "basic registration" process.This is a completely easy and hassle free process.

If you face any kind of difficulty during registration, please comment below or write an email to us : [email protected] or visit our website www.sharmaeducation.in